This week was an interesting one at Kerbey Lane. We started out very busy with the Monday holiday but things returned to normal after that. We were very pleased with the state of the weather this week. Now that Valentine's Day is in our rearview, we think it's time to think warm thoughts.

It was certainly warm enough yesterday for our employees who volunteered to help build a house with Austin Habitat for Humanity. Even though it's hard work, we love working with Austin Habitat for Humanity. It's a great opportunity for us to spend time giving back to the community while also spending time with our work family outside of work. If you would like to donate some of your time and/or money to Austin Habitat for Humanity, just head on over to their website for some ideas on how you can give.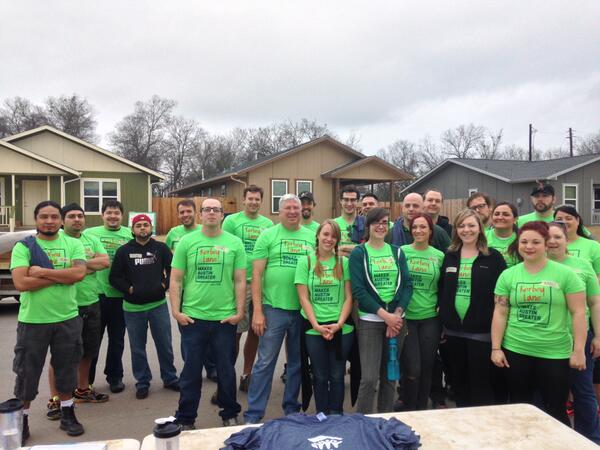 Y'all may remember a few weeks back we told you about a Bacon and Beer Festival coming to Austin. Well, we hope you purchased your tickets because, as we suspected the event is sold-out and it's taking place tomorrow! We are excited to be a part of this not only because it was fun to thinking about cooking with beer and bacon but also because the proceeds for this festival benefit our friends at the Capital Area Food Bank.




If you're planning to come in and see us this weekend, we have a special treat for you. In case you haven't heard, everyone's favorite featured pancake is on griddles at Kerbey Lane Cafe's all over Austin RIGHT NOW! That's right people, this isn't a drill the Cinnamon Roll pancake is IN. THE. HOUSE. Get your friends, get your Instagram and get in here and eat these pancakes before we stop serving them again.

Vegan pancake eaters, we have something special for you too. Next week, we go back to basics but right now the featured vegan pancake is Vegan Beignet. It's a pancake inspired by New Orleans' most-beloved breakfast pastry. We take a basic vegan vanilla pancake and top it with an espresso glaze and powdered sugar. It sounds simple enough but it's out of this world.

Whether you stop by or not, we hope y'all have a great weekend and we look forward to seeing you!